Bromo Ijen Bali Tour 4 Day 3 Night – There are 2 volcanoes in East Java that is to be the must-visit destination. Most of them will be starting from Surabaya, Malang, or even Yogyakarta and they will be finished at your hotel in Bali. You can also do the reverse from Bali and finished in Surabaya, Malang or Yogyakarta.
Bromo Ijen Bali | Day 01: Arrival / pick up from Surabaya
Our driver will pick you up from Juanda International Airport Surabaya or your hotel in Surabaya then drive you to the Mount Bromo area for around 3-4 hours. Afterward, you will stay at Lava View Lodge or Bromo Permai 1 or similar where overlooking the actives Volcano around the Tengger region for your enjoyable stay.
At 3:00 AM the 4WD (JEEP) will bring you to the world's most famous viewpoint at Mount pananjakan on the rim of the Tengger caldera to see sunrise with its young volcanic including Mount Bromo and an active Mount Semeru in the background is breathtaking the play light shadow with sunrise reach Mountain succession from the top to the bottom and the usual fog of the caldera.
Afterward, the adventure is continued to an active Mount Bromo volcano. Then will take you back to the hotel for breakfast. And then after breakfast, we continue the trip to Madakaripura waterfall, which takes around 30 drives from your hotel.
After visiting Madakaripura waterfall we will take you back to your hotel. In the afternoon we will invite you to visit Bukit Mentigen Bromo, to see the sunset. Afterward, we go back to the hotel. Free at leisure.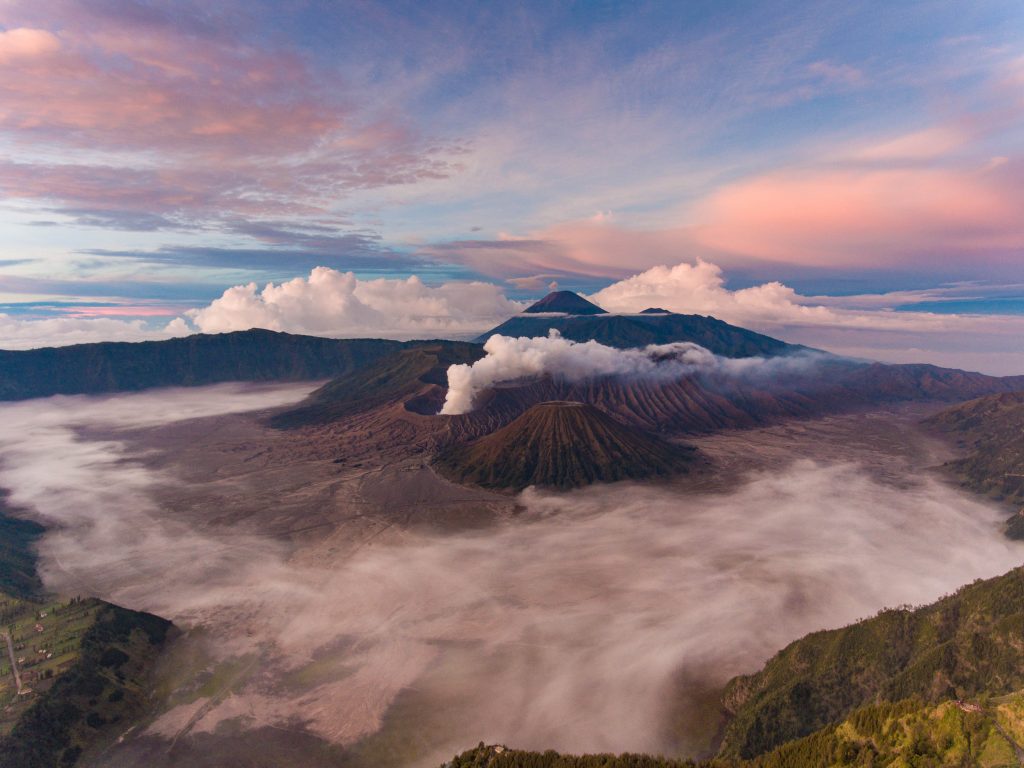 Bromo Ijen Bali | Day 03: Milkyway of Kingkong hill
Wake up early morning, after that we will take you to Kingkong hill, to see thousands of stars in the sky for Milkyway. Afterward, we will continue the trip to Teletubies hill, where we can see the beautiful savanna that is almost green.
And we will be back at your hotel for breakfast, take shower, pack, and loading bags, to the vehicle then we will drive you to Banyuwangi regency it takes around 6 hours to drive including a stop on the way to have lunch at Local Restaurant. When you arrive at Banyuwang Regency, you will stay at the hotel.
Day 04: Ijen crater – Bali
At 01:00 AM, our Ijen Discovery vehicle will carry you to Paltuding (the start point of Ijen Crater). From the Park, the Ranger post starts the 90-minute hike to Ijen Crater Blue Fire. The stunning unveils at 2383 meters altitude. The lake color and smoke wafting from bright yellow sulfur deposits create the landscape desolate, barren, and vibrantly alive.
Sulfur miners emerge carrying up to 80 kilograms of ores in bamboo baskets on their shoulders, climbing up along the treacherous path. After exploring Ijen Crater, We will drive down back to your hotel for breakfast and check out, then directly drive to Bali Island and you would be arriving at Kuta / Ubud / Nusa Dua / Sanur in the afternoon.
PRICE LIST
1 pax Rp. 8.736.000
2 pax Rp. 9.542.000
3 pax Rp. 12.297.000
4 pax Rp. 13.949.000
5 pax Rp.17.420.000
6 pax Rp.20.371.000
7 pax Rp.23.126.000
8 pax Rp.24.323.000
9 pax Rp.26.883.000
10pax Rp.27.690.000
Transportation comfortable car or minibus
Ferry two-way ticket
Jeep and driver at Bromo
guide service
Accommodation at Bromo and Kawah Ijen – local standard.
Based on 2 people maximum sharing (for solo travelers, 1 pax per room), hot water only at Bromo, (towels, and soap are not provided).
Entrances fees Bromo & Kawah Ijen
mineral water
breakfast in hotel
EXCLUDE PACKAGES :
Your own insurance
Personal expenses
Food
Tips for guides and drivers.
Booking and information