Kawah Ijen Blue Fire Tour from Bali 2 Day 1 Night
Kawah Ijen (2386 m) is an active composite volcano located within the Pleistocene Ijen Caldera (old volcanic crater), at the easternmost part of Java island.
The visible superficial manifestations of the hydrothermal system of Kawah Ijen's activity consist of the world's largest hyper acidic lake on Earth, a few thermal discharges and crater fumaroles which produce significant amounts of native sulfur.
The Ijen caldera complex measures approximately 210 km2. Its name is linked to that of the only currently active volcano within the caldera, Kawah Ijen. The caldera contains more than 15 post-caldera volcanic cones making it one of the top recommended area in the world for stunning volcanic scenery.
ITTERNARARY KAWAH IJEN TOUR
Day 01: Bali – Ferry Port – Banyuwangi Hotel | Kawah Ijen Blue fire
Our staff will pick you up from Bali airport or your hotel in Bali (Lovina, Pemuteran, Nusadua, Ubud, Sanur or Kuta area) then drive to take you to the most western tip of Bali to reach the Ferry port of Gilimanuk for about 3-4hours by a private car with AC
Then upon arrival in Gilimanuk harbour, proceed to take the ferry to cross Bali strait for about 1hour to reach Ketapang ferry port in Banyuwangi (in the most eastern tip of Java Island).
The trip goes through the rural landscapes of West Bali and lunch will be served at a local restaurant on the way. End of the afternoon drive up to Hotel, for stay overnight
Around 01:00 am, the ijen expedition team will bring you to the parking area of Mount Ijen, passing through plantations and rainforest. This is one of the few remaining on the Island of Java with giant ferns, plants & big trees, this journey takes approximately 1 hour from the hotel by private car.
Arrive at the parking area of Mount Ijen, approximately 1 until 1.5 hours will be required to ascend the slope of mount Ijen to reach the peak of Ijen Crater and along the path, you will enjoy the stunning natural scenery with fresh air & shady.
Resting on the edge of the crater at an altitude of 2386 meters and enjoy the blue fire and best panorama of the lake of sulphate where reflects spectacular view in the surrounding walls to give the impression of doom.
The sulfur mining workers go down into the crater and climb back up by passing a dangerous path on the edge of Ijen Crater with a load of as much as 80 kilograms on their shoulders. This is really a dangerous & hard job.  Here also, you will enjoy the beautiful scenery in the crater of Ijen as one of God's amazing creation. Do not forget to take pictures in this area as a proof that you have visited one of the most amazing places on earth.
After enjoyed the natural scenery at Crater of Ijen and then descend the slope of Mount Ijen until the vehicles parking area where our vehicle is waiting to escort you to visiting plantation.
Afterwards, we will be back to the City of Banyuwangi for having lunch at a local restaurant, then we will drive back to the Bali island with the same route and lunch will be served at a local restaurant. We will arrive at Bali island or your Bali hotel in the late afternoon or evening. The program finished.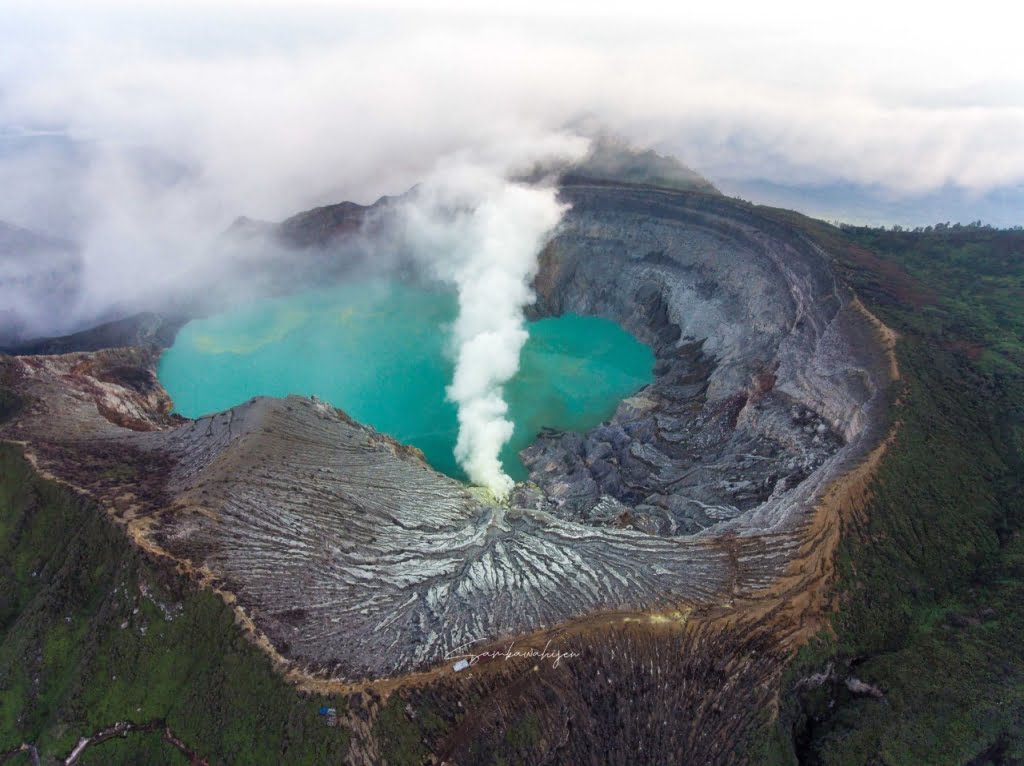 PRICE 
1 pax: IDR. 4.875.000

2 pax: IDR. 5.400.000

3 pax: IDR. 6.825.000

4 pax: IDR. 7.800.000

5 pax: IDR. 8.625.000

6 pax: IDR. 1.800.000

7 pax: IDR. 11.550.000

8 pax: IDR. 12.000.000

9 pax: IDR. 12.600.000

10pax : IDR. 13.050.000
Transportation comfortable car or minibus

 Ferry two-way ticket

Jeep and driver at Bromo

guide service

Accommodation at  Kawah Ijen – local standard.




Based on 2 people maximum sharing  (for solo travellers, 1 pax per room), hot water only at Bromo, (towels, and soap are not provided).

Entrances fees Kawah Ijen

mineral water

breakfast in hotel
EXCLUDE PACKAGES :
Your own insurance

Personal expenses

Food

Tips for guides and drivers.
Booking and information
[caldera_form id="CF60a042207e1ff"]