Ijen crater tour | Ijen Crater is one of the popular tourist sites located within the borders of Banyuwangi and Bondowoso regencies in East Java. Having more than two thousand visitors every month, Ijen Crater becomes a tourist attraction that makes many people curious.
This is a must-see if you are in the area or planning a trip to East Java Indonesia. You can enjoy many interesting things in the Ijen Crater, ranging from the phenomenon of the Blue Fire to the sunrise point. Moreover, Mount Ijen has an altitude of 2,386 meters above sea level.
It is surrounded by the most beautiful lush green countryside with rice fields and forests. And bordered by two other mountains right next to it (Meranti and Merapi). The gate is open from 12.30 AM.
The hiking itself to the volcano is around 1.5 until 2 hours. Also, the trip to the bottom of the crater is around 30-40 minutes. Ijen carter itself is truly dramatic – the caldera has a lake that is bright green in color and almost 100% pure sulphuric acid. It is 200 mt deep at its deepest and provides a fascinating focus to the volcano.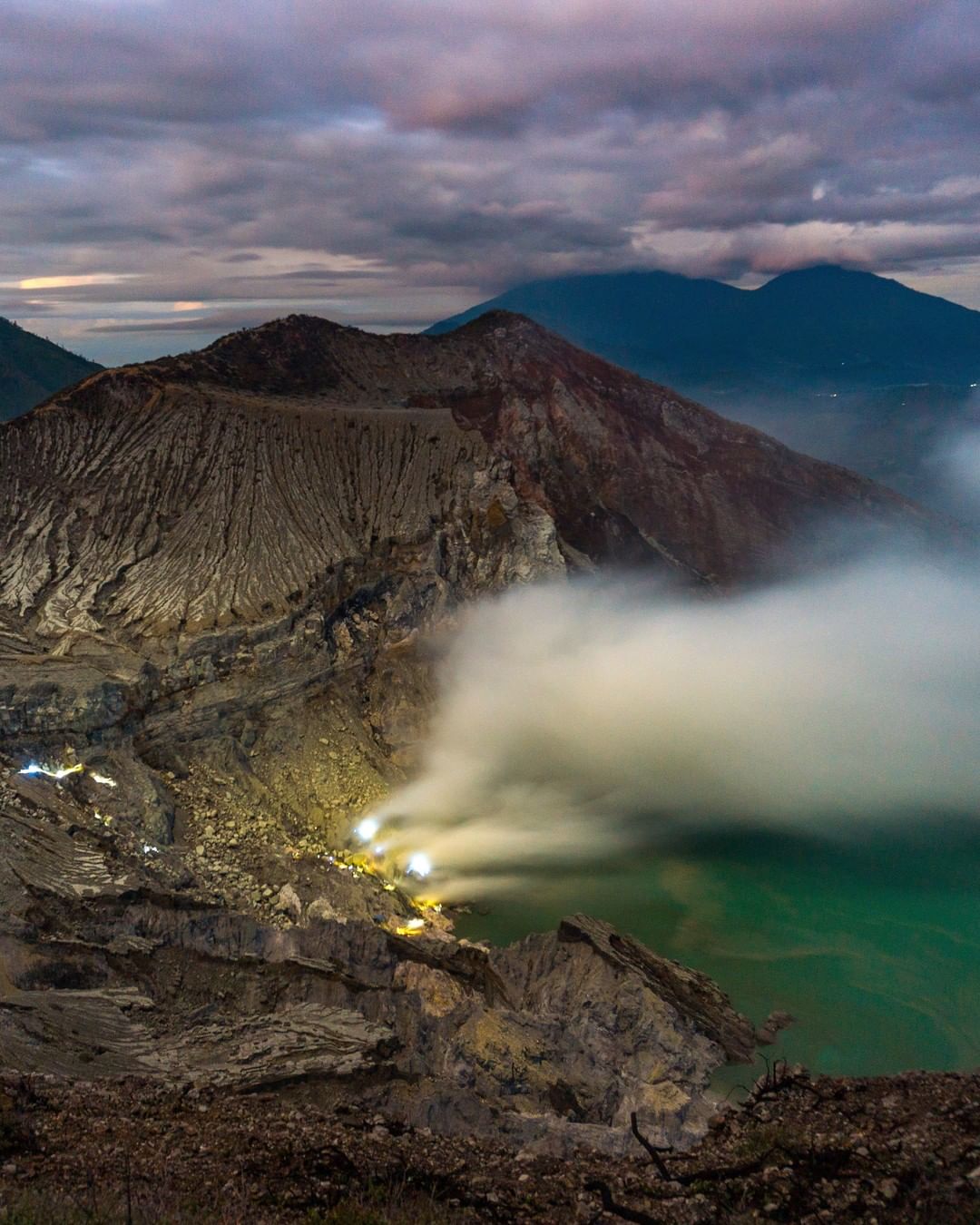 The best time to visit Ijen Crater Or ijen Volcano Or Kawah Ijen
The best day to visit this volcano is the dry season, which mostly starts from April until the beginning of November. Those months are the best time to visit Ijen Crater.
WORST TIME TO VISIT: Start from the end of December until March, there will be more rain that will start from Morning until night. From December until March, the intensity of the fog in the Ijen Crater was lower. Thus, visitors can see the blue lake and blue fire without being blocked by fog.
1. The blue fire phenomenon
The blue fire is a natural wonder that can only be seen at Ijen, It is only visible in the extreme darkness. If you are planning to witness the blue fire, you have to start walking at 2 AM. Once at the top you have to descend again into the crater, wearing a mask to find the blue fire.
2. Acidic Crater Lake
This beautiful warm lake with its blue-greenish water looks very inviting but it is corrosive and dangerous! Kawah Ijen (Ijen crater) is the world's largest highly acidic volcanic lake. The crater size is about 960 meters x 600 meters with a depth of 200 meters is so acidic that it can dissolve clothes and human flesh.
The acid measure is almost zero (pH<0.5) similar to the strength of car battery acid. I tried to touch the water using my finger, it was very warm and it tastes salty.
Please don't try this, I got my finger itched for about 30 minutes! The best time to go down to Ijen crater lake is in the morning between 4.00 to 9.00 am. Around 10 am the wind started to blow the acid smokes of sulfur to the walking path.
It will be hard to climb down or up when it got covered with those sulfur smokes. If you are in this situation and you don't have a mask, pour some water on the tissue or handkerchief.
2. Sunrise
Kawah Ijen has been a working sulfur mine since 1968 and you will come across a number of hardworking miners hauling heaving reed baskets of sulfur—weighing up to a mind-boggling 200 pounds—up and down the volcano on your hike.
In what has to be one of the toughest jobs in the world, many miners choose this line of work over farming in local areas thanks to its higher wage: roughly $10 a day (around 800 rupiahs per kilogram, based on two trips).
Tips for Visiting Ijen Crater
Because the area is in the form of mountains, there are some things you need to prepare before visiting Ijen Crater. Anything? Let's see the list.
warm cloth
scarves and jackets
exercise
respirator mask and goggles
Ijen Crater tour from Ketapang Harbor Banyuwangi 2 Day 1 Night
Ijen Crater tour from Banyuwangi 2 Day 1 Night | Ijen crater has sunrise and green views. Not only that,  Ijen plateau or Ijen Crater also has a blue flame/blue fire phenomenon that there are only 2 in the world. one in Iceland. to see the blue flame at ijen crater, to visit ijen crater tourists should come in the morning precisely at dawn or travelers can depart from the hotel to the starting point at approximately 1 am.
Travelers will climb 3 km is not it and will come down to the crater, the road to the bottom of the crater is very steep and hard about 800 meters. Only then, the blue flame pins. This amazing natural phenomenon. The blue flame at the Ijen volcano is unique, rare, and becoming an attraction itself. It also adds to the beauty of Ijen Crater after sunrise.
an ijen crater complex is a group of stratovolcanoes, in East Java, Indonesia. It is inside a larger caldera, which is about 20 kilometers wide. The Gunung Merapi stratovolcano is the highest point of that complex. West of Gunung Merapi is the Ijen crater, which has a one-kilometer-wide turquoise-colored acid crater lake.
The lake is the site of a labor-intensive sulfur mining operation, in which sulfur-laden baskets are carried by hand from the crater floor. The work is low-paid and very onerous. Workers earn around $5.50-$8.30 (Rp 50,000 – Rp 75,000) per day and once out of the crater, still need to carry their loads of sulfur chunks about three kilometers to the nearby Pultuding valley to get paid.
Many other post-caldera cones and craters are located within the caldera or along its rim. The largest concentration of post-caldera cones forms an east/west-trending zone across the southern side of the caldera.
The active crater at Kawah Ijen has an equivalent radius of 361 meters (1,184 ft), and a surface of 0.41 square kilometers (0.16 sq mi). It is 200 meters (660 ft) deep and has a volume of 36 cubic hectometres (29,000 acre•ft).
ITINERARY IJEN CRATER TOUR
DURATION: 2 DAYS 1 NIGHT
Day 01: Pick up service | Ijen Crater tour
Our driver will pick you up from banyuwangi ( airport, ferry harbor, etc ) by private car, and then we will take you to your hotel in the Banyuwangi area. Free Leisure.
Day 2 kawah ijen -Banyuwangi | Ijen Crater tour
The best moment to visit ijen for the blue flame is 01.00 Am, Our staff will pick up you, Then we will continue the journey to the ijen crater.  The driver will bring you to the parking area of the ijen crater. From the hotel to the parking area Paltuding takes around 45minute.
Then you will reach the parking area. finally, you are going to walk as far as three kilometers. about 2 kilometers uphill and 1 kilometer flat. After that, you can enjoy the beauty of the blue fire until the sun comes up and you can see the biggest crater lake in Indonesia and the mining worker carrying the sulfur.
After you enjoy the beauty of the ijen crater. we will back to the parking then we escort you back to the hotel after breakfast we will drop off you at Ketapang harbor or the train station and finish the blue fire tour.
PRICE
1 pax: IDR. 2.900.000
2 pax: IDR. 1.640.000 per person
3 pax: IDR. 1.700.000 per person
4 pax: IDR. 1.320.000 per person
INCLUDE PACKAGES :
Transportation comfortable car or minibus
guide service
Accommodation
mineral water
breakfast in the hotel
EXCLUDE PACKAGES :
Your own insurance
Personal expenses
Food
Tips for guides and drivers.
Ijen Crater midnight Tour From Banyuwangi
Ijen Blue Fire Trekking Tour is one of the challenging adventure activities that can be an option to add a beautiful impression during holiday time. Climbing to the crater of Ijen is very different from climbing in other areas. Here, the tourists will see the miners carrying sulfur from the crater of Ijen brought to the processing site that has a considerable distance.
Visit all of the most famous spots on Mount Ijen and get amazing photos at each one!
Have your own private tour guide and driver for the day who will be keen to share their local knowledge with you.
On this incredible tour you'll get to experience:
This amazing adventure is a once-in-a-lifetime experience and the rewards make it so worth the effort!
For a fun, stress-free, personal, and authentic experience exploring one of Indonesia's finest wonders, book this tour with us today. We can't wait to take you!
00.00 AM Pick-up service, our crew meet you in your hotel (Banyuwangi city area)
00.00 AM – 01.30 AM Drive to Paltuding as starting area
01.30 AM – 02.00 AM Preparation
02.00 AM – 03.30 AM Climb up to Ijen volcano until reaching the lake
03.30 AM – 06.00 AM Enjoy the blue fire, catch the sunrise moment and explore the volcano.
06.00 AM – 07.30 AM Back to Paltuding
07.30 AM – 09.00 AM Drive back to the hotel at end of the tour
Pick-Up Information | Ijen crater tour
Additional Information | Ijen crater tour
Child ticket:          Age 5–12
Adult ticket:          Age 13+
Children aged 0–4 are free of charge
This activity is not suitable for PWDs and pregnant woman
Local guide for hiking during the tour
In case the tour gets canceled due to inclement weather, you will give the option to reschedule the tour
What To Bring
Price Details Meeting point Banyuwangi

1 person sharing Price: Rp. 975.000
2-person sharing Price: Rp. 712.000 / pax
3-person sharing Price: Rp. 620.000 / pax
4-person sharing Price: Rp. 595.000 / pax
5-person sharing Price: Rp. 586.000 / pax
7-person sharing Price: Rp. 570.000 / pax
8-person sharing Price: Rp. 540.000 / pax
9-person sharing Price: Rp. 515.000 / pax
10-person sharing Price: Rp.480.000 / pax
What is included
Transport
entrance fees or Ticket
Tour
local guide
coffee or tea
gas mask
What is not included 
Anything that is not specifically mentioned in the "Inclusions" are pax account.
Terminal and Environmental Fees are not included
Expenses of personal nature such as laundry, mini bar, etc.
Surcharges apply during Peak season / High season & Holidays
Tipping guide and driver


BOOK YOUR TOUR HERE

 Fast response Whatsapp to +6285748711646
ijen Volcano tour from Bali 1 Day | Ijen crater tour
Ijen Volcano tour from Bali 1 Day | Ijen crater tour
Ijen Volcano Tour is probably one of my favorite tourist destinations for first-time visitors in Indonesia. The landscape is out of this world. One of the highlights of visiting Ijen is the blue flames, which you can only see at night.
The flames appear at the base of the Ijen crater and are caused by sulphuric gas catching fire. You can find an article about the flames in National Geographic here. Ijen Volcano is a Stratovolcano mountain which is located on the border between Banyuwangi Regency and Bondowoso Regency, East Java, Indonesia. Ijen Crater (Kawah Ijen) has the highest peak of 2.799 meters above sea level.
I've been the iconic places, even the favorite destination for tourists. Why? Because we ensure you that Ijen Crater is the best choice for their vacations. Ijen crater has all the wonderful things, that you want to see it.
The turquoise Lake, that's what the tourist called Ijen Crater, One of the Instagramable places to take some photos. Ijen Crater Lake has a depth of 200 meters, and the crater has a high acidity that is close to zero.
So that could dissolve the human body quickly. When we see the crater lake from the peak of Ijen Mountain you will see the oldest dam of Ijen Crater. The Ijen Crater Dam has built when in the Dutch era. It functions to avoid the overflow of crater water. You can also see the best sunrise ever and the rare phenomenon which is only two in the world, after Iceland, it called "BLUE FIRE".
The blue fire has been there a few hundred years ago or maybe a thousand years ago. And yet, the existence was known around 1950. Blue fire formed because the solfatara hole with sufficient hot temperature (600 degrees Celcius) is burning the closest sulfurs.
DETAIL TIME
| | |
| --- | --- |
| 06.00 | : pick up service |
| 07.00-11.00 pm | : drive to Gilmanuk harbor |
| 11.00-12.00 am | : go to java by ferry |
| 12.00-01.00 am | : drive to the Ijen parking area |
| 01.00-02.30 am | : hiking to the Ijen crater rim |
| 02.30-03.00 am | : down the crater for blue fire |
| 03.00-04.00 am | : experience the blue fires |
| 04.00-05.00 am | : back to the crater rim |
| 05.00-06.00 am | : enjoy the view over   the acidic lake and sunrise |
| 06.00-07.00 am | : back to the parking area |
| 07.00-08.00 am | : breakfast |
| 08.00-04.00 pm | : back to Bali ( Ubud ) |
| 4.00 PM | : finish the program |
PRICE
1 pax: IDR. 3.200.000
2 pax: IDR. 1.887.000/pax
3 pax: IDR. 1.543.000/pax
4 pax: IDR. 1.453.000/pax
5 pax: IDR. 1.424.000/pax
6 pax: IDR. 1.400.000/pax
7 pax: IDR.  1.342.000/pax
8 pax: IDR. 1.220.000/pax
9 pax: IDR. 1.133.000/pax
10 pax: IDR. 998.000/pax
Included
Transportation from Bali to Java
Fery
Trekking guide
gas mask
local breakfast
Excluded
Lunch and dinner
tipping guide and driver
Quick summary of Ijen Volcano tour from Bali One Day
– Pick up from the requested pick up location at Bali
– Going to Gilimanuk ferry port
– Check-in the ferry, going to Ketapang ferry port
– Going to Ijen basecamp (Paltuding)
– Coffee break/safety briefing
– Hiking to Ijen Volcano
– Blue flames and Ijen crater sightseeing
– Back to Basecamp
– Going to Banyuwangi, breakfast at a restaurant
– Going to ferry port
– Drop off service to the Bali area (Kuta, Denpasar, Seminyak, Canggu, Ubud)
OTHER PACKAGE: FOR IJEN VOLCANO
The things that you should bring during the trip Ijen crater Tour:
– Decent shoes for hiking or trekking (with good grip on its sole)
– Light clothes for trekking (inner layer)
– Gloves / any personal items needed to prevent cold weather
– Warm jacket (preferably windproof)
– Raincoat and tissues (available at basecamp)
– Small backpack to carry items
– Cap or hat (it gets sunny after morning)
– Personal ID card
– Snacks or any light meals needed for long trekking
– Camera or any other tools to capture pictures
Read before you book the Ijen crater tour:
– Destination area is restricted for people with asthma
– Destination area is restricted for people with heart disease
– Destination area is restricted for people with a serious medical issue
– Not recommended for pregnant travellers
– Not recommended for travellers with back problems
– Advised for fit and healthy traveller
Pemuteran: 09.30 PM (30 minutes to harbour)
Lovina: 09.00 PM (1,5 hours to harbour)
Munduk: 08.00 PM (2 hours to harbour)
Ubud: 07.00 PM (4 hours to harbour)
Sanur: 06.30 PM (4-5 hours to harbour)
Kuta: 06.30 PM (4-5 hours to harbor)
Jimbaran: 06.30 PM (4-5 hours to harbor)
Uluwatu: 06.00 PM (5-6 hours to harbor)
Seminyak: 07.00 PM (4-5 hours to harbor)
Canggu: 07.00 PM (4-5 hours to harbor)
Booking your trip Now