Kawah Ijen Blue fire | This phenomenon can only be seen 1 hour after sunset and 1 hour before sunrise. We can see blue fire all night from 6 pm until 4.30 am.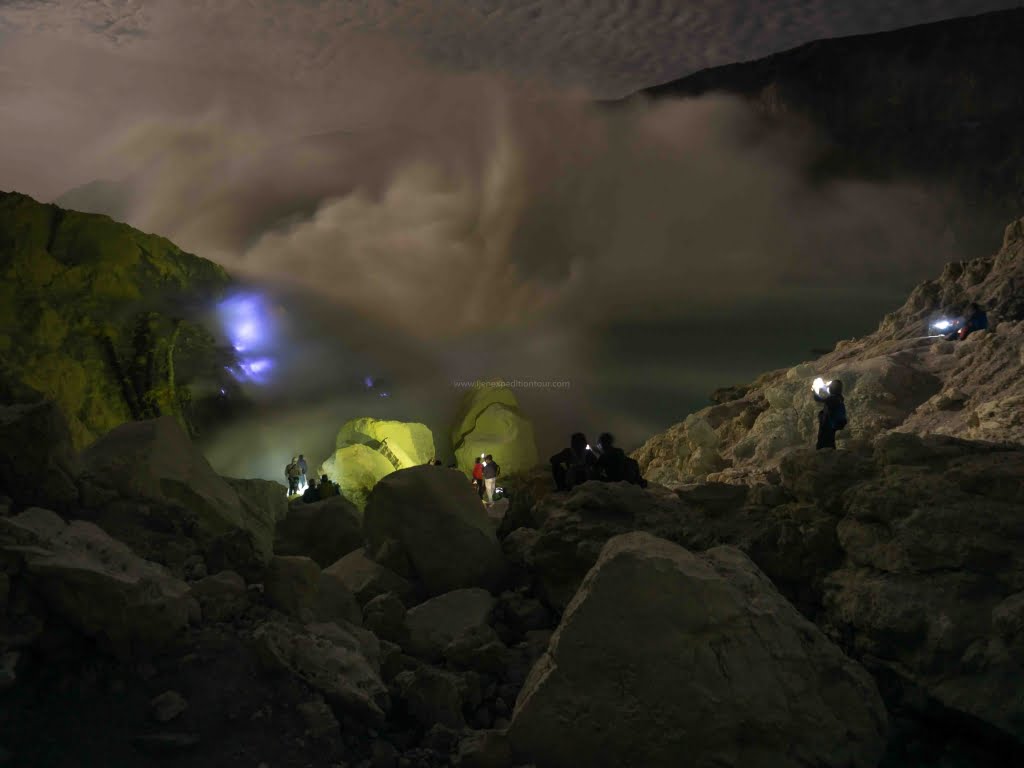 Kawah Ijen Blue Fire
As with every natural sighting, its height and intensity depend on various conditions and cannot be predicted. The flames have been known to reach more than 5 meters in height but this is not always the case. No matter what, it is always a unique experience and you are guaranteed to get some pretty amazing photographs!
The lava molten rock that emerges from the Earth at ultra-high temperatures isn't colored significantly differently than the lava at other volcanoes, which all differ slightly based on their mineral composition but appear a bright red or orange color in their molten state.
But at Kawah Ijen, extremely high quantities of sulfuric gases emerge at high pressures and temperatures (sometimes more than 600°C) along with the lava.
When sulfur from within the volcano breaches the surface, it can reach temperatures up to 600°C( 1, 112°F). Therefore the sulfur immediately encounters lower temperatures and pressures at the surface, which causes the sulfur to right away ignite and erupt blue flames up to five meters ( 16 ft) into the air.
How to see blue fire | kawah ijen blue fire
Trekking to the summit of Mount Ijen to see blue fire began at midnight (around 1:00 dawn) of Pos Paltuding (the last post for all the Ijen crater tour to make the climb) with a long climb to the crater of Mount Ijen 1.5 to 2 hours trekking and so far 3 km.
OUR BLUE FIRE IJEN TOUR PACKAGE
1 Ijen crater tour from Bali
https://ijenexpeditiontour.com/blue-fire-ijen-tour-2-day-1-night-from-bali/
https://ijenexpeditiontour.com/ijen-crater-tour-1-day-from-bali/
https://ijenexpeditiontour.com/bali-ijen-bromo-yogjakarta-4n-5d/
1 Ijen crater tour from Surabaya
https://ijenexpeditiontour.com/bromo-ijen-tour-3-day-2-night-from-surabaya/
https://ijenexpeditiontour.com/bromo-ijen-tour-from-yogyakarta-3-day/
During the rainy season, Mt Ijen's blue flames are weaker, while in the dry season they are bigger. The dry season, between July and September, is the best time to climb Mt Ijen. The sandy mountain path will be dry, hence it will not be slippery and be safer for visitors.
Things you need to bring to see Blue Fire | ijen blue fire
Torches (both hand torches or headlamps. We opted for the headlamps to maintain our palms-free), although I took both, simply in case the battery might run out withinside the night
Gloves (it's miles bloodless up there, however, they even serve you nicely while you pass down the crater and ought to preserve directly to sharp rocks)
Gas masks, that you want as safety in opposition to dense clouds of poisonous gases like sulfur dioxide. You can not live for a long term in one's gases without a mask. It all relies upon the wind if you'll stumble upon a number of the ones poisonous gases on the day of your climb.
Warm jacket. Now, do no longer count on the provider of a "cell second-hand iciness garments store"
IJEN BLUE FIRE TOUR PACKAGE
Ijen tour from Banyuwangi 2 Day 1 Night
Travelers will climb 3 km is not it and will come down to the crater, the road to the bottom of the crater is very steep and hard about 800 meters. Only then, the blue flame pins. This amazing natural phenomenon. The blue flame at the Ijen volcano is unique, rare, and becoming an attraction itself. It also adds to the beauty of Ijen Crater after sunrise.
ijen crater complex | Kawah ijen Blue fire
ijen crater complex is a group of stratovolcanoes, in East Java, Indonesia. It is inside a larger caldera, which is about 20 kilometers wide. The Gunung Merapi stratovolcano is the highest point of that complex. West of Gunung Merapi is the Ijen crater, which has a one-kilometer-wide turquoise-colored acid crater lake.
The lake is the site of a labor-intensive sulfur mining operation, in which sulfur-laden baskets are carried by hand from the crater floor. The work is low-paid and very onerous. Workers earn around $5.50-$8.30 (Rp 50,000 – Rp 75,000) per day and once out of the crater, they still need to carry their loads of sulfur chunks about three kilometers to the nearby Pultuding valley to get paid.
Many other post-caldera cones and craters are located within the caldera or along its rim. The largest concentration of post-caldera cones forms an east/west-trending zone across the southern side of the caldera.
The active crater at Kawah Ijen has an equivalent radius of 361 meters (1,184 ft), and a surface of 0.41 square kilometers (0.16 sq mi). It is 200 meters (660 ft) deep and has a volume of 36 cubic hectometres (29,000 acre•ft).
ITINERARY
DURATION: 2 DAYS 1 NIGHT
Day 01: Pick up service
Our driver will pick you up from banyuwangi ( airport, ferry harbor etc ) by private car, and then we will take you to your hotel in the Banyuwangi area. Free Leisure.
Day 2 kawah ijen -Banyuwangi
The best moment to visit ijen for the blue flame is 01.00 Am, Our staff will pick up you, Then we will continue the journey to the ijen crater. The driver will bring you to the parking area of the ijen crater. From the hotel to the parking area Paltuding takes around 45 minutes.
Then you will reach the parking area. finally, you are going to walk as far as three kilometers. about 2 kilometers uphill and 1 kilometer flat. After that, you can enjoy the beauty of the blue fire until the sun comes up and you can see the biggest crater lake in Indonesia and the mining worker carrying the sulfur.
After you enjoy the beauty of the ijen crater. we will back to the parking then we escort you back to the hotel after breakfast we will drop off you at Ketapang harbor or the train station and finish the blue fire tour.
PRICE
1 pax: IDR. 1.320.000
2 pax: IDR. 1.860.000
3 pax: IDR. 2.040.000
4 pax: IDR. 3.000.000
5 pax: IDR. 3.960.000
6 pax: IDR. 5.160.000
7 pax: IDR. 5.940.000
8 pax: IDR. 6.120.000
9 pax: IDR. 6.900.000
10pax: IDR. 7.080.000
INCLUDE PACKAGES :
Transportation comfortable car or minibus
guide service
Accommodation – local standard.
Based on 2 people maximum sharing (for solo travelers, 1 pax per room), (towels and soap are not provided).
mineral water
breakfast in the hotel
EXCLUDE PACKAGES :
Your own insurance
Personal expenses
Food
Tips for guides and drivers.
Ijen Crater is the largest acidic lake in the world.
kawah Ijen Crater, on the island of Java, Indonesia has two of the foremost unusual occurrences on Earth. the primary is the active solfatara which provided hot and flammable sulfur gas. It ignites because it enters Earth's oxygen-rich atmosphere and burns with an electrical blue flame. a number of the gases condense within the atmosphere to supply a stream of liquid sulfur which also burns with electric blue flames. The flames are hard to ascertain during the day but illuminate the view in the dark.
Ijen crater, on the island of Java, Indonesia has two of the foremost unusual occurrences on Earth. the primary is a lively Sulfatara that emitted hot, flammable sulfurous gases. These ignite as they enter Earth's oxygen-rich atmosphere and burn with an electrical blue fire. a number of the gas condenses within the atmosphere to supply flows of molten sulfur that also burn with an electrical blue flame. The flames are difficult to ascertain during the day but illuminate the landscape in the dark.
The second occurrence may be a one-kilometer-wide caldera lake filled with turquoise-blue water. the color of the water may be the result of its extreme acidity, and high concentration of dissolved metals. it's the world's largest holy acidic lake with measured a ph as low as 0.5. The explanation for its acidity is an inflow of hydrothermal waters charged with gases from a hot magma chamber below.
The continuous stream of sulfur-laden gases blasts from fumarole at the lake-side solfatara. These hot gases travel underground in the absence of oxygen. If they're hot enough once they emerge from a vent, the sulfur ignites upon contact with oxygen within the atmosphere. Often the temperature is low enough that the sulfur condenses, falls to the bottom as a liquid, flows a brief distance, and solidifies. This produces a renewable deposit of mineral sulfur that local people mine and carry to an area refinery that buys it.
Sulfur Mining | Kawah Ijen Blue fire
Miners walk up the flank of the mountain then descend dangerous rocky paths down the steep walls of the caldera. Then, using steel bars, they break sulfur from an outcrop, load their baskets, and make the return trip to the refinery. Miners make one or two trips per day carrying up to 200 pounds of sulfur. The refinery pays them based on the load of sulfur that they deliver.
the speed of pay amounts to some dollars per trip. Ambitious and physically fit miners can make two trips per day.
Miners have carried many sections of pipe up the mountain. These are wont to capture the gases produced by numerous vents and route them to one area where their sulfur spills onto A level work area. This makes the collection more efficient and safer for the miners.
Sulfur mining at Ijen Crater has its hazards. The steep paths are dangerous, the sulfur gases are poisonous, and occasional gas releases or phreatic eruptions have killed many miners.
Ijen Crater is one among the few locations on Earth where sulfur remains produced by artisanal miners. Today, most of the world's sulfur is produced as a byproduct of oil refining and gas processing. Nearly 70 thousand metric tonnes of sulfur are produced by these methods. A coincidence of low wages and a little local demand for brimstone supports artisanal mining at Kawah Ijen.
About 300,000 years ago, volcanic activity in this area began building an outsized stratovolcano that's called "Old Ijen" today. Over thousands of years and repeated eruptions, it grew to an elevation of about 10,000 feet. Lava flows and pyroclastic deposits from Old Ijen disconformably overly the Miocene limestone.
Then, about 50,000 years ago, a series of enormous explosive eruptions produced a caldera about ten miles in diameter. About twenty cubic miles of fabric was ejected and covered the encompassing landscape up to 300 to 500 feet deep in ejecta and volcanic ash.
In the past 50,000 years, many small stratovolcanoes have formed within Old Ijen's caldera and covered its southern and eastern margins. Kawah Ijen covers a part of the eastern margin. Thousands of years of weathering have converted the pyroclastic deposits into rich, fertile soils which now support coffee plantations.
The volcano remains active. The last magmatic eruption occurred in 1817. Phreatic eruptions occurred in 1796, 1917, 1936, 1950, 1952, 1993, 1994, 1999, 2000, 2001, and 2002. These have caused little or no damage but present a danger to anyone mining sulfur or visiting the caldera.
Water enters the caldera lake as rain and as runoff from a limited catchment area. Water and gases also enter through hydrothermal vents on the rock bottom of the lake. Rarely, overflow water goes over a spillway on the side of the lake and into the Banyupahit River catchment area. "Banyupahit" may be a local word meaning "bitter water."
Water also leaves the lake through underground seepage and enters tributaries of the Banyupahit River. As this water enters the catchment area, it's a pH and dissolved metals content almost like the caldera lake.
because it flows downstream, it's diluted by runoff and comes from sources that aren't influenced by hydrothermal activity. These waters raise the pH of the river, add oxygen, and cause dissolved metals to precipitate out into the stream channel. this is often a source of natural pollution that degrades the catchment area, and the sediments, and lowers the standard of water which will be withdrawn for irrigation use.
The best time to visit Ijen Crater Or ijen Volcano Or Kawah Ijen
The best day to visit this volcano is the dry season, which mostly it starts from April until the beginning of November. Those months are the best time to visit Ijen Crater.
WORST TIME TO VISIT: Start from the end of December until March, there will be more rain that will start from Morning until night. From December until March the intensity of the fog in the Ijen Crater was lower. Thus, visitors can see the blue lake and blue fire without being blocked by fogWhat you can see in the Kawah Ijen | Kawah Oj
1. The blue fire phenomenon | Kawah Ijen Blue fire
The blue fire is a natural wonder that can only be seen at Ijen, It is only visible in the extreme darkness. If you are planning to witness the blue fire, you have to start walking at 2 AM. Once at the top you have to descend again into the crater, wearing a mask to find the blue fire.
2. Acidic Crater Lake | kawah Ijen blue fire
This beautiful warm lake with its blue-greenish water looks very inviting but it is corrosive and dangerous! Kawah Ijen (Ijen crater) is the world's largest highly acidic volcanic lake. The crater size is about 960 meters x 600 meters with a depth of 200 meters is so acidic that it can dissolve clothes and human flesh.
The acid measure is almost zero (pH<0.5) similar to the strength of car battery acid. I tried to touch the water using my finger, it was very warm and tastes salty.
Please don't try this, I got my finger itched for about 30 minutes! The best time to go down to Ijen crater lake is in the morning between 4.00 to 9.00 am. Around 10 am the wind started to blow the acid smokes of sulfur to the walking path.
It will be hard to climb down or up when it got covered with those sulfur smokes. If you are in this situation and you don't have a mask, pour some water on the tissue or handkerchief.
2. Sunrise | kawah Ijen blue fire
Kawah Ijen has been a working sulfur mine since 1968 and you will come across many hardworking miners hauling heaving reed baskets of sulfur—weighing up to a mind-boggling 200 pounds—up and down the volcano on your hike.
In what has to be one of the toughest jobs in the world, many miners choose this line of work over farming in local areas thanks to its higher wage: roughly $10 a day (around 800 rupiahs per kilogram, based on two trips).
Tips for Visiting Kawah Ijen blue fire
Because the area is in the form of mountains, there are some things you need to prepare before visiting Ijen Crater. Anything? Let's see the list.
warm cloth
scarves and jackets
exercise
respirator mask and goggles
BOOK YOUR TOUR HERE
Whatsapp +6285748711646