Ijen blue Fire | The best time to see blue lava or blue fire in the Ijen crater is 1 hour after sunset and 1 hour before sunrise because when the sky is dark, the blue color will appear more clearly.
Blue lava or Blue fire is not really blue, instead, it is the blue fire or sulfur fire that results from the sulfur being released as it burns. It burns as an electric-blue flame that has the illusory appearance of lava.
Reason: Sulfur Burning With an Electric Blue Flame
Lava: Not Actually Lava Or a Volcanic Eruption
Lava Color: Red-Orange
Ignition: Sulfur Ignites at 360 °C (680 °F)
This is a rare phenomenon in the world with the Kawah Ijen volcano in Indonesia being the world's most well-known and documented in the world. The fires there burn regularly.
Sulfur burns as it comes into contact with hot air (combusts at temperatures above 360 °C (680 °F), and the resulting flames are energetic and blue. For lava to actually be blue it would need to be at least 6,000 °C (10,830 °F) which is far hotter than anything naturally possible on the Earth's surface.
This phenomenon is really caused by the combustion of sulfur, of which Ijen has a number of the best levels in the world. The sulfuric gases are released from cracks within the rock at air mass and temperatures sometimes far more than 1,112°.
The blue fire will be reduced in size around 5 a.m because the sun will come at 5 a.m., so don't go too late. when the sun rises, the blue fire will be reduced and cannot be seen. April to November is the best month to see the blue fire phenomenon.
Where can I see the Kawah Ijen Blue Lava?
Where can I see the blue fire? To see the blue fire you have to come to Ijen Crater, Ijen Crater is an active volcano in Banyuwangi, East Java, Indonesia.
Why does Ijen a crater have blue fire Lava?
the lava molten rock that emerges from the Earth at ultra-high temperatures isn't colored significantly different than the lava at other volcanoes, which all differ slightly based on their mineral composition but appear a bright red or orange color in their molten state.
But at Kawah Ijen, extremely high quantities of sulfuric gases emerge at high pressures and temperatures (sometimes more than 600°C) along with the lava.
When sulfur from within the volcano breaches the surface, it can reach temperatures up to 600°C( 1, 112°F), and therefore the sulfur immediately encounters lower temperatures and pressures at the surface, which causes the sulfur to right away ignite and erupt blue flames up to five meters ( 16 ft) into the air.
Things you need to bring to see Kawah Ijen Blue lava
Torches  (both hand torches or headlamps. We opted for the headlamps to maintain our palms-free), although I took both, simply in case the battery might run out withinside the night
Gloves (it's miles bloodless up there, however, they even serve you nicely while you pass down the crater and ought to preserve directly to sharp rocks)
Gas masks, that you want as safety in opposition to dense clouds of poisonous gases like sulfur dioxide.  You can not live for a long term in one's gases without a mask.  It all relies upon the wind if you'll stumble upon a number of the ones poisonous gases on the day of your climb.
Warm jacket. Now, do no longer count on the provider of a "cell second-hand iciness garments store"
check out the article below :
https://www.youtube.com/watch?v=VbumP9rDuv4
https://www.nationalgeographic.com/science/article/140130-kawah-ijen-blue-flame-volcanoes-sulfur-indonesia-pictures
Tour Package Blue fire
IJEN CRATER|TUMPAK SEWU|MOUNT BROMO 4 DAY 3 NIGHT TOUR FROM BALI
Ijen Tour | The Most Epic Adventures in East Java
Ijen Crater is one of the popular tourist sites located within the borders of Banyuwangi and Bondowoso regencies in East Java. Having more than two thousand visitors every month, Ijen Crater becomes a tourist attraction that makes many people curious.
This is a must see if you are in the area or planning a trip to East Java Indonesia. You can enjoy many interesting things in the Ijen Crater, ranging from the phenomenon of the Blue Fire to the sunrise point. Moreover, Mount Ijen has an altitude of 2,386 meters above sea level.
It is surrounded by the most beautiful lush green countryside with rice fields and forests. And bordered by two other mountains right next to it (Meranti and Merapi). The gate is open from 12.30 AM.
The hiking itself to the volcano is around 1.5 until 2 hours. Also, the trip to the bottom of the crater is around 30-40 minutes. Ijen carter itself is truly dramatic – the caldera has a lake that is bright green in colour and almost 100% pure sulphuric acid. It is 200 mt deep at its deepest and provides a fascinating focus to the volcano.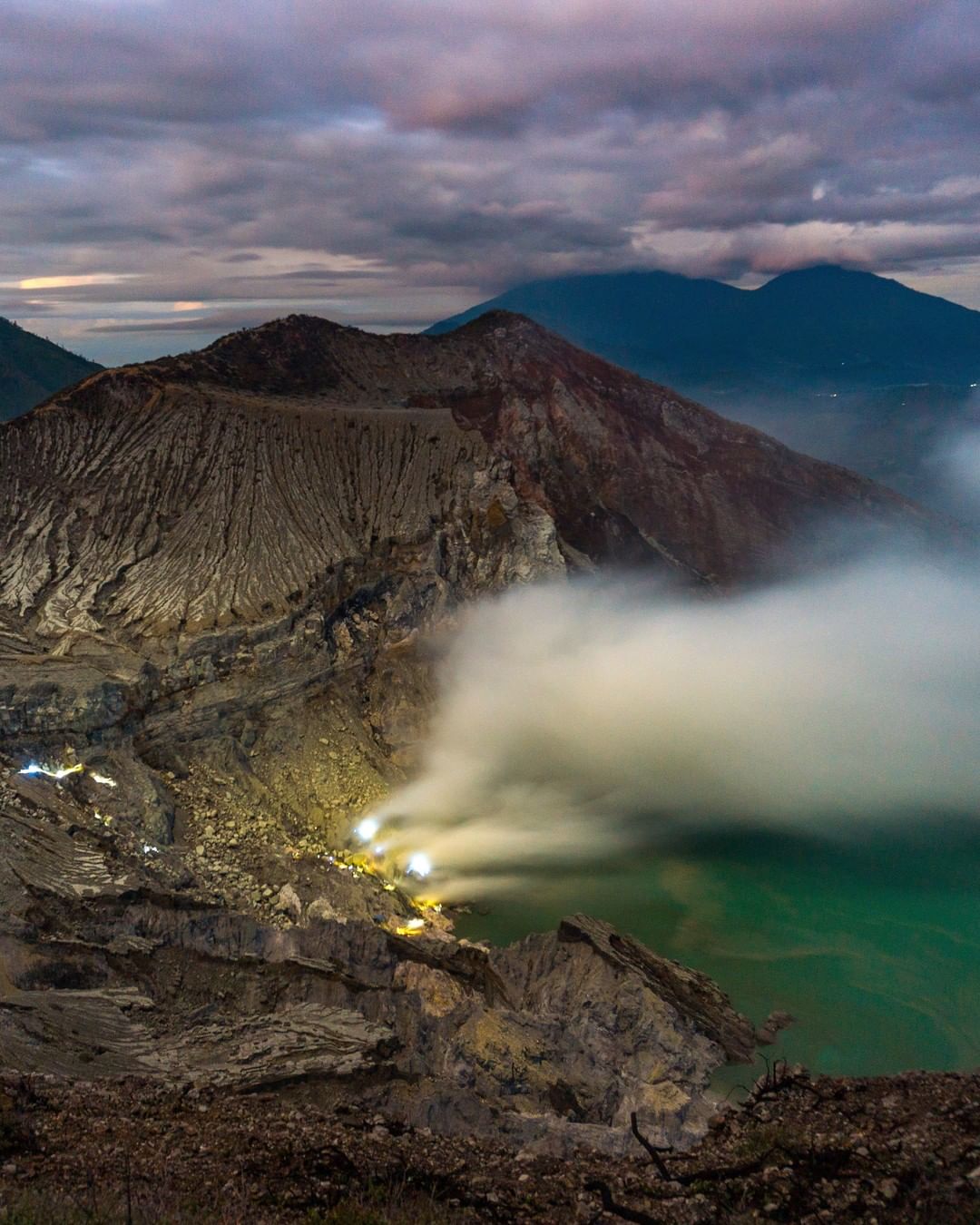 The best time to visit Ijen Crater Or ijen Volcano Or Kawah Ijen
The best day to visit this volcano is the dry season, mostly it starts from April until the beginning of November. Those months are the best time to visit Ijen Crater.
WORST TIME TO VISIT: Start from the end of December until March, there will be more rain that will start from Morning until night. From December until March the intensity of the fog in the Ijen Crater was lower. Thus, visitors can see the blue lake and blue fire without being blocked by fog.
What you can see in the Kawah Ijen 
1. The blue fire phenomenon | Kawah Ijen Blue fire
The blue fire is a natural wonder that can only be seen at Ijen, It is only visible in the extreme darkness. If you are planning to witness the blue fire, you have to start walking at 2 AM. Once at the top you have to descend again into the crater, wearing a mask to find the blue fire.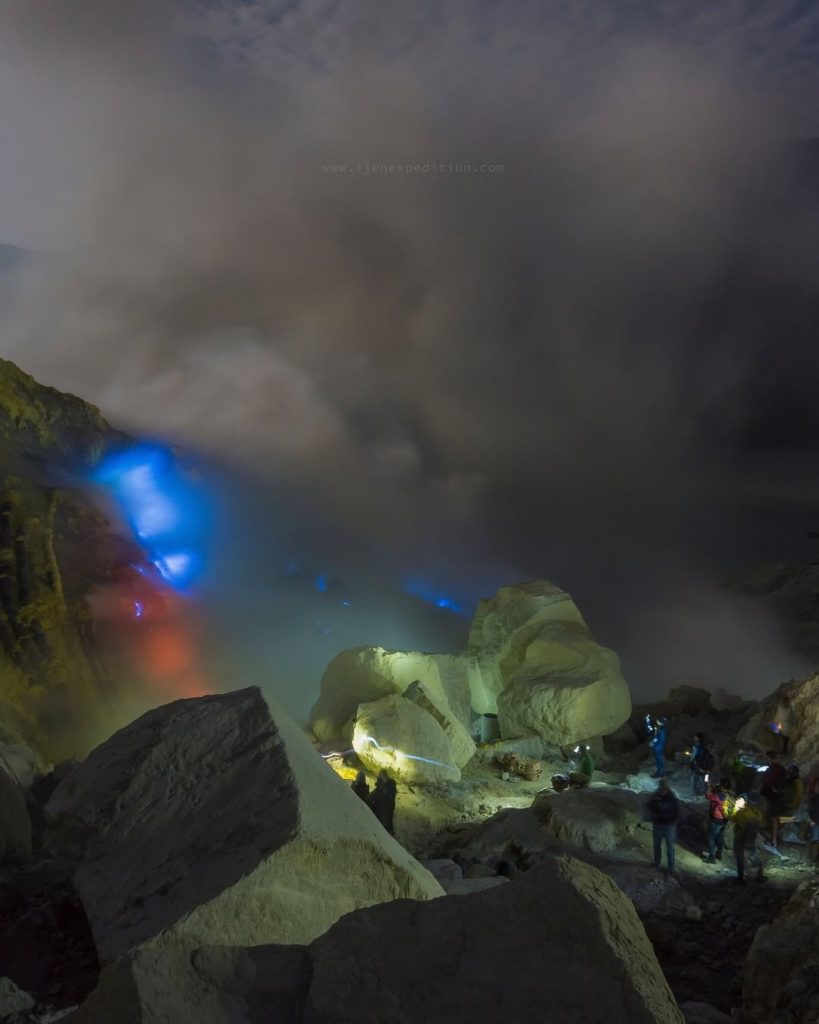 2. Acidic Crater Lake | Ijen Blue fire
This beautiful warm lake with its blue-greenish water looks very inviting but it is corrosive and dangerous! Kawah Ijen (Ijen crater) is the world's largest highly acidic volcanic lake. The crater size is about 960 meters x 600 meters with a depth of 200 meters is so acidic that it can dissolve clothes and human flesh.
The acid measure is almost zero (pH<0.5) similar to the strength of car battery acid. I tried to touch the water using my finger, it was very warm and it tastes salty.
Please don't try this, I got my finger itched for about 30 minutes! The best time to go down to Ijen crater lake is in the morning between 4.00 to 9.00 am. Around 10 am the wind started to blow the acid smokes of sulfur to the walking path.
It will be hard to climb down or up when it got covered with those sulfur smokes. If you are in this situation and you don't have a mask, pour some water on the tissue or handkerchief.
2. Sunrise | Kawah ijen blue fire
Kawah Ijen has been a working sulfur mine since 1968 and you will come across a number of hardworking miners hauling heaving reed baskets of sulfur—weighing up to a mind-boggling 200 pounds—up and down the volcano on your hike.
In what has to be one of the toughest jobs in the world, many miners choose this line of work over farming in local areas thanks to its higher wage: roughly $10 a day (around 800 rupiahs per kilogram, based on two trips).