Bromo Tumpak Sewu Ijen | Mount Bromo Tumpak Sewu waterfall- Ijen Crater 4 Day 3 Night4 day tour package provides a package of Mount Bromo Tour, Ijen Crater Tour, and Tumpak Sewu waterfall. They are in different places. Mount Bromo is in Bromo Tengger Semeru National Park. It is in border of Probolinggo, Lumajang, Malang and Pasuruan.
Day 01: Arrival – Mount Bromo area
Our driver and guide will pick you up from Surabaya and then drive you to the Mount Bromo area around 4 hours of driving. Afterward, you will stay there for one night and have free leisure.
Day 02 : Mount Bromo sunrise Penanjakan – Lumajang city
At 3 AM early morning, the 4WD (JEEP) will take you to the world's most famous viewpoint at Mount Pananjakan on the rim of the Tengger caldera to see sunrise with its young volcanic including Mount Bromo and an active Mount Semeru in the background is breathtaking the play light shadow with sunrise reach Mountain succession from the top to the bottom and the usual fog of the caldera. Afterward, the adventure is continued to an active Mount Bromo volcano.
Then will take you back to the hotel for breakfast, take shower, pack, load the bags into the car and then transfer and continue our trip to Lumajang city. We will drive around 4 hours away. And you will stay at the homestay.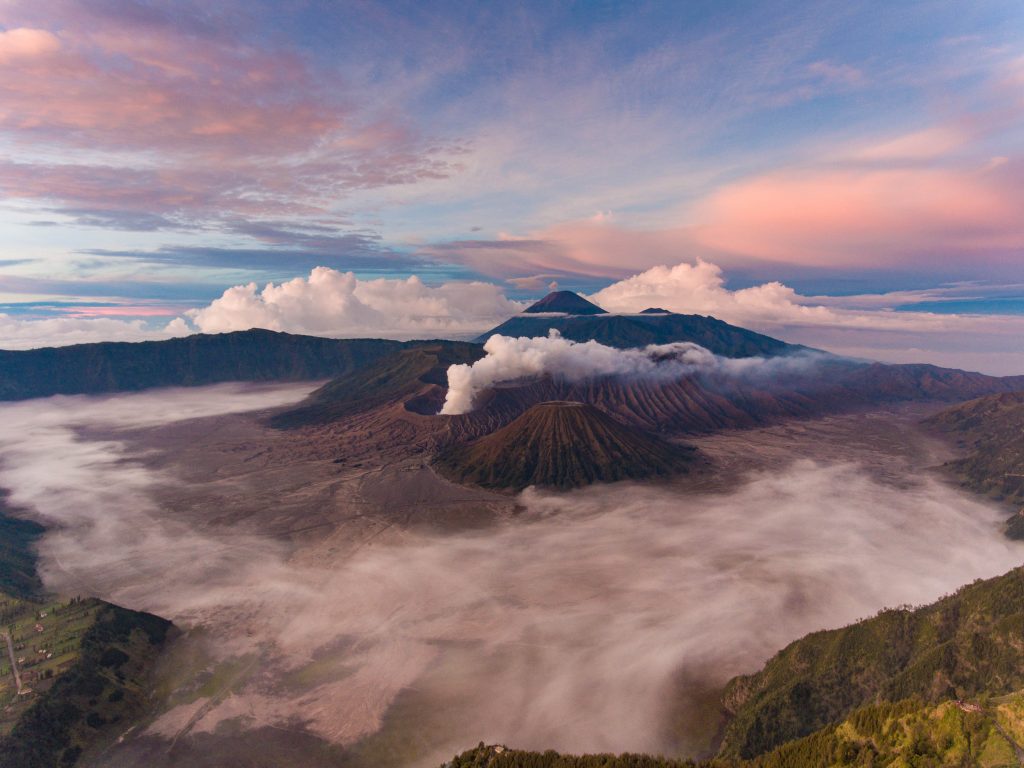 Day 03 : Tumpak Sewu waterfall – Banyuwangi city
Our driver will pick you up from the lobby hotel between 4:00 – 4:30 AM. And then we will drive about 2 hours away from Lumajang town, and the waterfalls can be classified as an extreme journey, synonymously called an adventure! It takes 5 hours to explore the Tumpak sewu area : Panorama Tumpak Sewu waterfall, Nirwana Waterfall, Telaga Biru and Goa Tetes.
Goa Tetes is a cave with rainfall and a lake in it and then a waterfall and there are naturally occurring stalactites and stalagmites. After that, we will escort you to the car and we will drive to your hotel in Banyuwangi city, it takes around 6 hours drive.
Day 04 : Ijen crater –  Surabaya
At 00:15 AM, We will pick you up and take you to the slope of Mount Ijen, passing through plantations and rainforest. This is one of the few remaining on the island of Java with giant ferns and plants, and big trees, this journey takes approximately 1,5 hours from the hotel. Arriving at the parking area of Mount Ijen. Approximately 1 to 1.5 hours will be required to ascend the slope of mount Ijen to reach the peak of Ijen Crater and along the path, You will enjoy the stunning natural scenery with fresh air & shady.
Resting on the edge of the crater at an altitude of 2883 meters and enjoy the best panorama of the lake of sulfate which reflects a spectacular view in the surrounding walls to give the impression of doom. The sulfur mining workers go down into the crater and climb back up by passing a dangerous path on the edge of Ijen Crater with a load of as much as 80 kilograms on their shoulders. You will also enjoy the beautiful scenery in the crater of Ijen as one of God's amazing creations.
After You enjoyed the natural scenery at Crater of Ijen and then descend the slope of Mount Ijen until the vehicle's parking area where our vehicle is waiting to escort you back to the Hotel for having Breakfast and check out. at a local restaurant. And then we will drive you back to Surabaya Or Bali
DETAIL AND ITINERARY MOUNT BROMO
Day 1 ( Surabaya-cemora Lawang village ) Bromo Tumpak Sewu Ijen 
– our driver will pick you up at Surabaya airport, hotel, etc
– check-in hotel and free program
Day 2 ( Bromo sunrise-Pronojiwo village ) Bromo Tumpak Sewu Ijen 
– our jeep driver will pick up you at Cemoro Lawang hotel and then drive to sunrise point.
– After enjoying the sunrise, continue towards Bromo Crater, You can do Soft Trekking to get to the crater, or rent a horse.
– back to Hotel then continue to Hotel or homestay in Pronojiwo village
– free program
Day 3 (Tumpak Sewu waterfall-Hotel in ijen area | Bromo Tumpak Sewu Ijen 
– explore the Tumpak Sewu waterfall for about 3 hours ( please
– Back to homestay
– Drive to ijen crater area ( Banyuwangi )
– check-in hotel and free time
Day 4 ( Ijen crater-drop off ( Bali or Surabaya ) Bromo Tumpak Sewu Ijen 
– At 12.00 am driver will pick you up then drive to the Ijen parking area
– trekking for about 1,5 hour
– Explore Ijen Crater
– Back to the hotel
– drop off process ( Bali or Surabaya )Please contact us for more info
PRICE LIST: Bromo Tumpak Sewu Ijen
1 pax Rp. 9.264.000
2 pax Rp. 10.008.000
3 pax Rp. 13.512.000
4 pax Rp. 14.256.000
5 pax Rp. 19.860.000
6 pax Rp. 26.448.000
7 pax Rp. 27.192.000
8 pax Rp.31.836.000
9 pax Rp.32.580.000
10pax Rp.39.024.000
Transportation comfortable car or minibus
Jeep and driver at Bromo
guide service
Accommodation at Bromo and Kawah Ijen – local standard.
Based on 2 people maximum sharing  (for solo travellers, 1 pax per room), hot water only at Bromo, (towels, and soap are not provided).
Entrances fees Bromo & Kawah Ijen
mineral water
breakfast in hotel
EXCLUDE PACKAGES :
Your own insurance
Personal expenses
Food
Tips for guides and drivers.
BOOK YOUR TOUR NOW